June 2004 Issue 1 Read by Idiots -- Produced by Bigger ones
Exclusive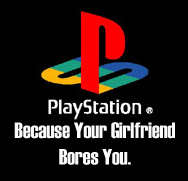 Threats made towards
Bob Jefferies
Has Bin Laden been found in
Bob's Nose ?
Find out in this months issue
The
Monthly
Cue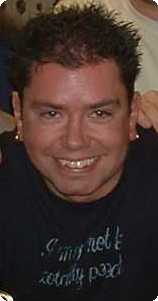 The Cue discovers how
Slade ffffffffffffffffffffffffffffffff Mr Varden became
Or fffffffffffffffffffffffffffvvvvv The Stockingford Sausage!
Darkness
You Decide
Rumours have been gathering pace that legendary pool ace Andy West is in negotiations to make a dramatic return to the Nuneaton Singles League. He declined an interview with The Monthly Cue, and just inquired if anyone had put a bid in for his cue and case. So we at the Cue interviewed close friend and teammate Alun Jones who said, "Andy should say in retirement so we just have fond memories of how shit he was. He shouldn't start playing again and prove it."
Spec Savers have also pulled out of an alleged sponsorship deal with Rob Orton when they realised he didn't need glasses he was just really shiIt at pool.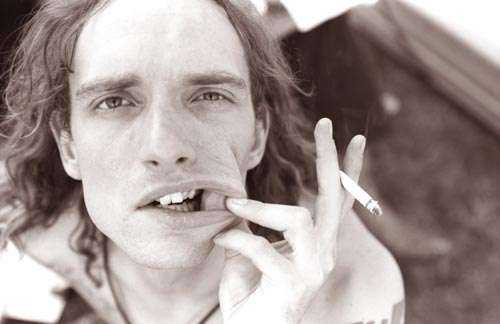 Justin Hawkins of The Darkness fame look alike Alun Jones has firmly denied reports that he is indeed Mick Hill of Slade or indeed Swampy and Jesus even if their are groovy man! The Cue asks Is it Al Jones or Justin (pictured) you decide.
Fife Street's Mick Taylor has finally changed his name to Mick Taylor0 as it appears every week on the Nomads score sheet.
Rumours have not yet been confirmed that both Keith Beasley and Andy Yearby have both potted a ball in a pocket that they were actually aiming for.
Two alleged pool players Jason Spencer and Stuart McClaughlin are allegedly in talks with the B.B.C. to do a spin off of a popular cookery show but about pool it will be called Can't Pot Won't Pot.

Congratulations also go out to Mark Chapman who beat of a host of hopefuls including Karl Knight and Mick Taylor to land the role of uncle Festa in the next Adams Family movie entitled 6 Hours to Yarmouth on the A47.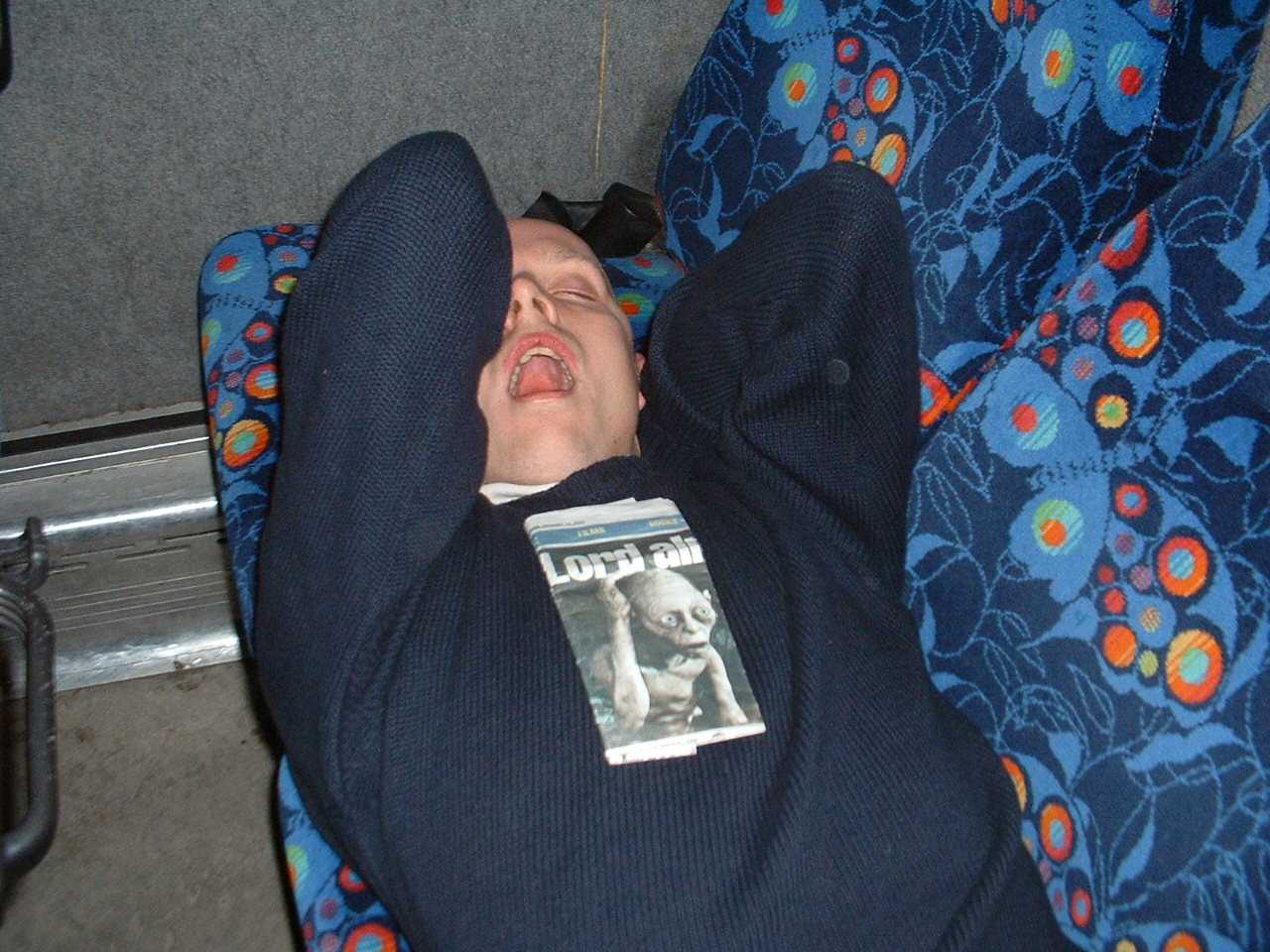 Karl Knight was not disappointed for long though as he later landed the Star role of Gollum's stunt double in a new movie about how Gollum became Gollum. The movie is entitled 'Where's My Cue Precious' as is due for release next month.
Knight is pictured resting after a gruelling day on set.
PRESENTATION EVENING.
Due to an alleged incident at this year's event a certain team which will remain nameless. To protect their identity we will call them the Nomads.Well they feel their side has been weakened by these events and are not happy and have rightly or wrongly accused chairman Bob Jefferies and have put a bounty on his head. Speaking from a secret location in Buttermere Ave next to number 11 Mr Jefferies said 'He was feeling the pressure.
CAPTION COMPETITION
Here's your chance to win a special prize, it's easy to enter just say what you think pool legend Paul Willis is thinking the best entry will win a top prize.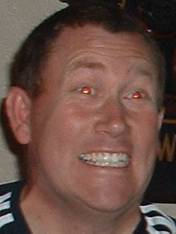 Also say which prize you would like.
Prize A
Prize B
Prize C
Send your suggestions to themonthlycue@aol.com
MISCELLANEOUS SALES:
POOL TALENT FOR SALE ONE CAREFUL OWNER NEVER USED
PHONE BOB JEFFERIES 07976221295.
BOOKS AND VIDEOS:
All 25pence ono
Staying Still on Your Shot by Colin Richards 200 pages
Hair by Alun Jones 0 pages
2000 Reasons why I lost that frame by Scott Varden 250 pages
Dave Alsops Greatest Pool Shots by D.Alsop. Running time 1 sec.
HAPPY OR HOMOSEXUAL?
Just answer Ben's 10 simple questions below to find out if you should come out!!
Each question has a choice of A, B or C. Pick which answer best applies to you. Then add your total points score up and E mail to themonthlycue@aol.com To find out if your cat burglar or a turd burglar.
1) How long have you been playing pool?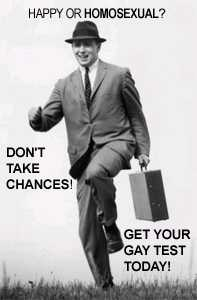 A) 0-5 years
B) 6-10 years
C) 11+ years
2) Have you ever beaten Scott Varden
A) Yes
B) No
C) Never played him.
3) What's your favourite film?
A) Rambo 3
B) American Pie 3
C) Rocky 3
4) What's your favourite band? vvvvvvvvv 5) OR
A) Queen vvvvvvvvvvvvvvvvvvvvvvvvvvvv A) Pet Shop Boys
B) Frankie Goes to Hollywoodvvvvvvvvvvvv B) Culture Club
C) Wham vvvvvvvvvvvvvvvvvvvvvvvvvvvv C) Gay Bikers on Acid
6) Favourite Musical? vvvvvvvvv vvvvvvvv 7) Favourite TV personality?
A) My Fair Lady vvvvvvvvvvvvvvvvvvvvvv A) Dale Winton
B) Paint Your Wagon vvvvvvvvvvvvvvv B) Graham Norton
C) South Pacific vvvvvvvvvvvvvvvvvvvvvvv C) Michael Barrymore
8) If Julian Clarey moved to the area would you allow him to join your team?
A) Yes
B) No
C) Only if he gave you a B J
9) What's your favourite hobby v 10) Would you sleep with Lee Steptoe for £1?
A) Flower Arranging vvvvvvvvvvvvvv v v A) Yes
B) Needle Craft vvvvvvvvvvvvvvvvvv v v B) No
C) Getting a sausage in your back passage. v C) I have or I'd do it for 50p
A = 3 Points B = 2 Points C = 5 Points
Tot your points up then E-Mail your score to themonthlycue@aol.com
MORE BREAKING NEWS
Paul Gosling's hopes of putting the disappointment of last season's relegation behind him sadly haven't materialised. His run of poor form continues with defeats in his first 3 games of the new season. Committee man Bob Jefferies offered the dejected Gosling these words of encouragement after being asked for his thoughts 'Goose has to remember he's only been shit for 15 years look at Al Jones and Col Richards and there still trying'.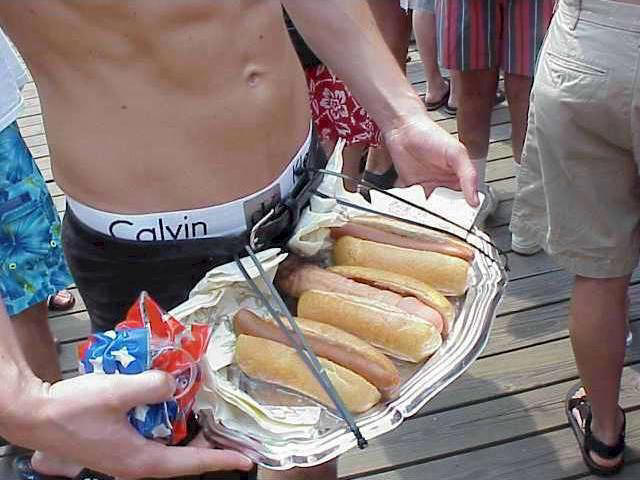 The Monthly Cue has been given this picture of a sausage sales man plying his trade in Great Yarmouth. We ask the question is this how Scott Varden became known as the Stockingford Sausage?
E mail your thoughts and we will publish the clean ones, and any others probably.
We have received several complaints that Mark Chapman has allegedly sent 'Ringers' to play some of his matches.
We at the Monthly Cue can confirm that he has now grown a beard (see photo).